Our company's led amusement lamp successfully passed CE & ROHS certification!
一. CE marking is a certification mark that indicates conformity with health, safety, and environmental protection standards for products sold within the European Economic Area (EEA). The CE marking is also found on products sold outside the EEA that are manufactured in, or designed to be sold in, the EEA. This makes the CE marking recognizable worldwide even to people who are not familiar with the European Economic Area. It is in that sense similar to the FCC Declaration of Conformity used on certain electronic devices sold in the United States.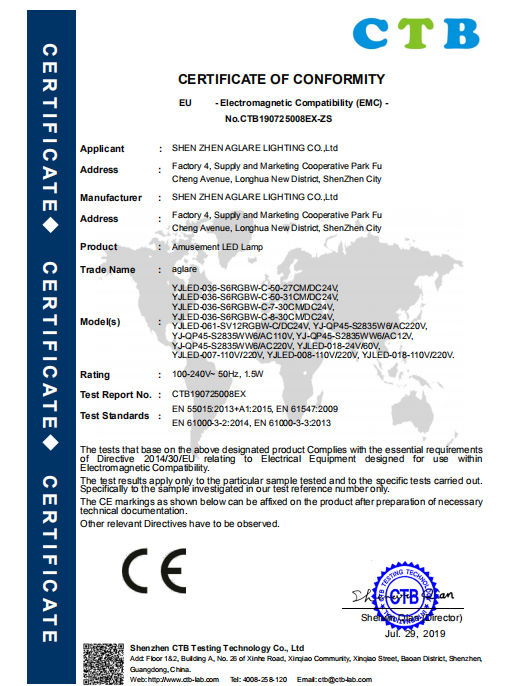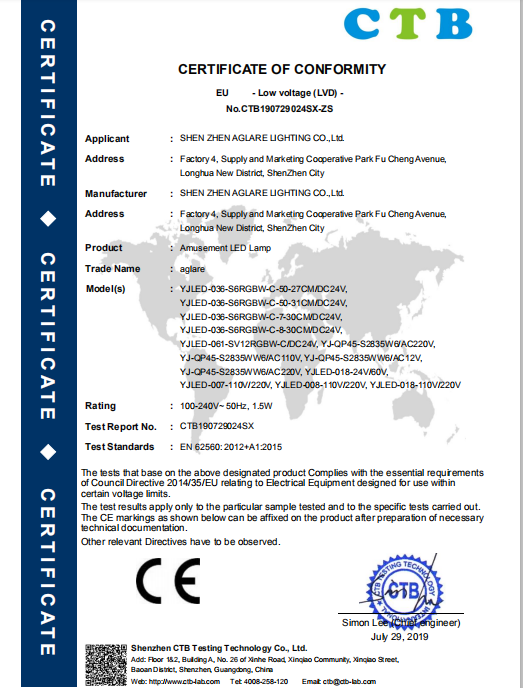 二. RoHS is a mandatory standard enacted by EU legislation, and its full name is the Restriction of Hazardous Substances. The standard was officially implemented on July 1, 2006. It is mainly used to standardize materials and process standards for electrical and electronic products, making it more conducive to human health and environmental protection. The purpose of this standard is to eliminate lead, mercury, cadmium, hexavalent chromium, polybrominated biphenyls and polybrominated diphenyl ethers in electrical and electronic products (Note: the correct Chinese name for PBDE refers to polybrominated diphenyl ethers, and polybrominated diphenyl ethers are wrong. A total of 6 substances, and the cadmium content should not exceed 0.01%.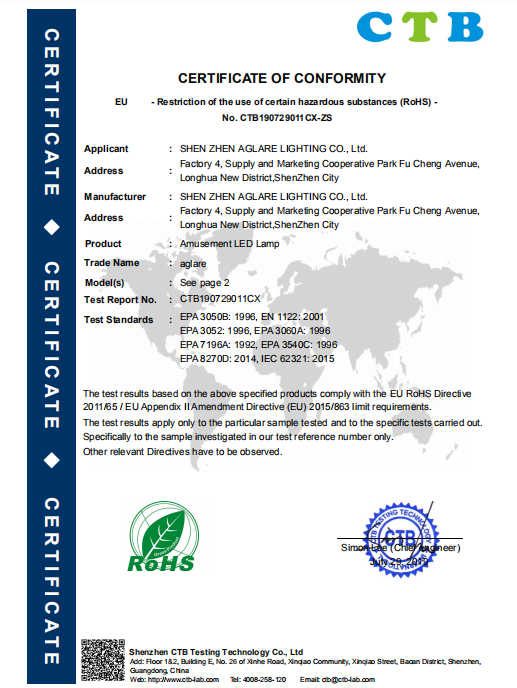 三. The feature of our led amusement lamp.
1.Waterproof cover, acrylic material, high strength, more wear resistant
2.Self-designed PCB circuit, customized according to customer requirements
3.Self-made SMD, control quality well from the beginning
4.Second double-sided Rubber Washer three-dimensional waterproof
5.Third Rubber Washer is three-dimensional waterproof
6.waterproof potting process, the shell is made of German Bayer PC material, anti- uv and fireproof.
6.The fixed ring is German Bayer PC material,anti- uv and fireproof.
7.The fifth waterproof procedure, adopt ip65 waterproof male and female connector