Recently, the Shenzhen Small and Medium Enterprise Service Bureau announced the notice on the list of "specialized, special and new" small and medium-sized enterprises in Shenzhen in 2022. After enterprise declaration and expert review, Aglare Lighting relied on its innovation in the field of SMD LED original components and LED energy-saving lighting The comprehensive advantages such as ability and technical indicators are on the list, and it is recognized as a "specialized, special and new" enterprise!
Aglare Lighting was successfully selected into the 2022 Shenzhen "Specialized, Specialized and New" Enterprise List.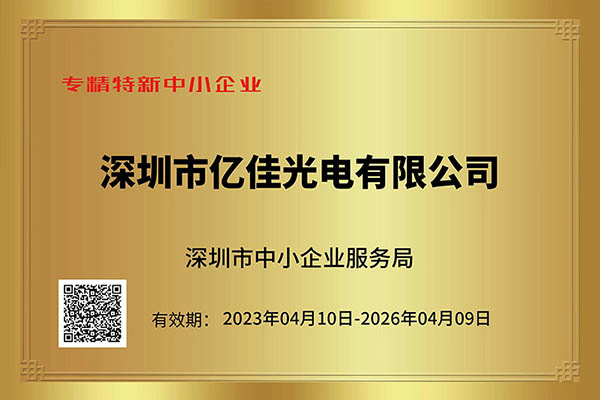 Specialized and new
That is the abbreviation of specialization, refinement, specialization, and novelty. Enterprises that meet the above characteristics are called specialized, special and new enterprises. It is required that the main business and development focus of the enterprise conform to the national industrial policy and relevant requirements, have obvious characteristics of specialization, refinement, specialization, and novelty, strong innovation ability, fast development speed, and be in the same position in terms of market, quality, efficiency, or development. Industry-leading level, advanced and exemplary.
Winning this honor is not only the recognition of Yijia Optoelectronics technology R&D capabilities and innovation capabilities by the Shenzhen Municipal Bureau of Industry and Information Technology, but also a spur to our company. It has further strengthened our strategic direction of scientific research investment and technology research and development. Through Strong core to enhance the company's core competitiveness and brand influence.
Shenzhen Aglare Lighting Co,.LTD, established in 2005, we have been committed to the manufacture and sales of SMD LED original components and LED energy-saving lighting fixtures. Our main product business divisions: one is the SMD LED original business division, mainly based on medium and high-power RGB; the second type is the lighting business division of the amusement park theme park situation lighting, mainly including E10 E14 playground special waterproof bulbs , program built-in point light source, program external point light source, bumper car lights, RGB floodlights; the third category of LED outdoor building lighting business division, mainly including LED light strips, LED point light sources, LED floodlights, and other LED landscapes lamps, etc.;
In the future, Yijia Optoelectronics will further exert its scientific research capabilities and innovation advantages, increase the research and development of product technology, continue to cultivate in the field of SMD LED components and LED energy-saving lighting applications, and strive to provide customers with the highest quality products and services, and become a world-class Provider of LED lighting products and solutions.